The US singer and actor Meat Loaf has died aged 74, his agent has confirmed.
Born Marvin Lee Aday and later legally known as Michael, the musician died on Thursday with his wife, Deborah Gillespie, by his side.
"We know how much he meant to so many of you and we truly appreciate all of the love and support as we move through this time of grief in losing such an inspiring artist and beautiful man," his family said in a statement. "From his heart to your souls … don't ever stop rocking!"
Written and composed by Jim Steinman, Meat Loaf's 1977 debut album Bat Out of Hell remains one of the biggest-selling albums in history. Steinman and Meat Loaf's 1993 album Bat Out of Hell II: Back Into Hell produced the global hit single I'd Do Anything for Love (But I Won't Do That). It was his only UK No 1 single, spending seven weeks at the top. He completed with Bat Out of Hell trilogy with The Monster Is Loose in 2006. The three albums have sold more than 65m copies worldwide.
Meat Loaf also had a breakout role in the 1975 film version of The Rocky Horror Picture Show playing Eddie, a feral and ill-fated delivery boy who sings the song Hot Patootie. He appeared in more than 50 films and TV shows, among them Fight Club, Wayne's World and Spiceworld the Movie. In 2021, he signed a deal to develop a relationship competition series titled I'd Do Anything for Love (But I Won't Do That).
The news of the rock star's death prompted numerous fond tributes. Stephen Fry recalled performing a sketch with him on the UK sketch comedy show Saturday Live in the 1980s. "I hope paradise is as you remember it from the dashboard light, Meat Loaf," he tweeted. Of their appearance together, he wrote: "He had the quality of being simultaneously frightening and cuddly, which is rare and rather wonderful."
Music industry executive Pete Waterman called him a "larger-than-life character with a unique voice".
Aday was born in Dallas, Texas, on 27 September 1947. He was an only child, his mother a school teacher and gospel singer and his father a former police officer who developed alcoholism after being medically discharged from the US army during the second world war.
Aday acted in high school productions, studied at Lubbock Christian College and later North Texas State University. After his mother's death, he moved to Los Angeles – where he worked as a car park attendant and believed that he once picked up a hitchhiking Charles Manson – and formed his first group, Meat Loaf Soul, taking the name from a nickname given to him by a football coach.
"I always dated the best-looking girls in school, the gorgeous ones, the prom queens, and I was huge. I weighed almost 300 pounds," Meat Loaf told Houston Press in 2014. "And these guys would come up to me and say, 'How does a fat motherfucker like you get all these women?' And you know what I'd tell them? I'd say, 'Because I understand.' And they'd just look at me."
In Los Angeles, Meat Loaf turned down three early offers of recording contracts and the group plied their trade live, supporting acts such as Van Morrison's band Them, Taj Mahal, Janis Joplin, the Who, the Fugs, the Stooges and the Grateful Dead. As band members came and went, the group changed its name with every new lineup – among them Floating Circus and Popcorn Blizzard.
Popcorn Blizzard moved to Michigan, released an album in 1967 and sold 5000 copies. Meat Loaf, however, told NME in 1978 that he was "going crazy out there in the woods" and so he moved back to Los Angeles and joined the cast of Hair.
He was playing a long game, he explained, exploring other avenues of entertainment that he hoped would ultimately allow him to make music on his terms. "I went into the theatre 'cause I hate bars; I didn't want to be stuck in a bar band and go sing Top 40 material. To me that's as bad as selling out.
"Instead, why not do something that lets your mind be creative? I did Shakespeare. Now I come from nowhere but the streets and I'd never read Shakespeare until I acted it, and people had told me it was so difficult. But to me it was the easiest thing in the world to understand, because he was coming from the same level. It's just that it's written old-fashioned."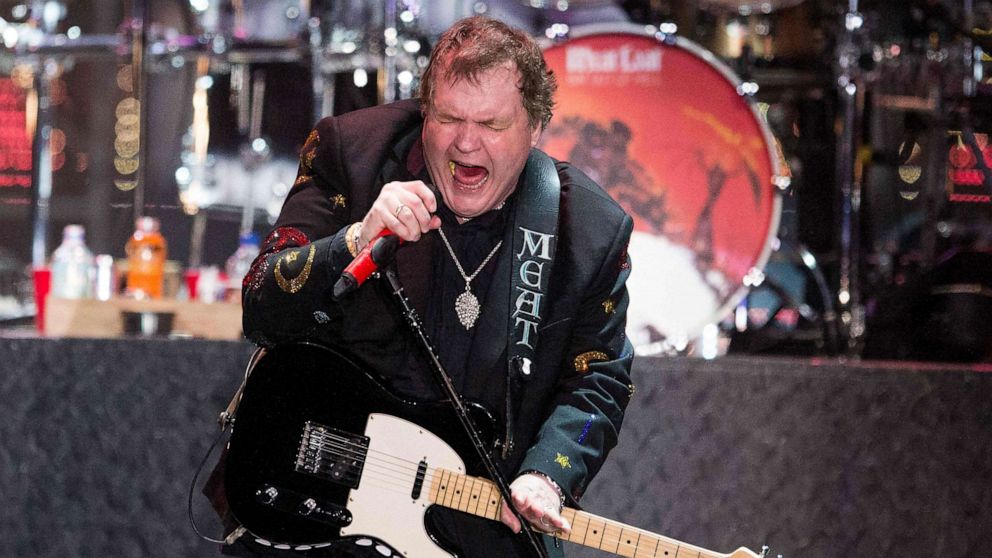 His role in Hair led to an invitation to record for Motown in collaboration with Shaun "Stoney" Murphy. An album, Stoney & Meatloaf (misspelled) was released in September 1971. They had some singles chart success but Meat Loaf left the group when Motown replaced his and Murphy's vocals on the song Who Is the Leader of the People? with those of Edwin Starr.
He found success again on stage, starring in an off-Broadway production of Rainbow and a Broadway production of Hair. Auditioning for a production of More Than You Deserve, he met his future collaborator Jim Steinman.
In 1973, Meat Loaf was cast in the original Los Angeles production of The Rocky Horror Show, playing Eddie and Dr Everett Scott. He took on the role of Eddie in the later film.
His rising fortunes dovetailed with the proper start of his collaboration with Steinman on Bat Out of Hell in 1972, which prompted him to sideline the theatre world. The album had a long gestation, rejected by many labels who didn't understand its genre-defying style. Todd Rundgren proved the album's saving grace, producing the record and playing guitar. Finally, Cleveland International Records took a chance on the album, and history was made. "I have the patience of a cat," Meat Loaf told NME. "I'll sit tight and wait until everything is right."
His debut solo single, You Took the Words Right Out of My Mouth, was released in 1977 and reached the US and UK Top 40.
Meat Loaf and Steinman brought their grounding in the stage into a fiercely theatrical Bat Out of Hell live show. "We don't use lasers, we don't use smoke or fire or anything like that," he told Sounds in 1978. "Kiss and Alice Cooper's theatrics didn't come from within the music. The basis of our whole thing has been trying to put across the dramatics we do live on the record. The record is very cinematic."
Bat Out of Hell came out at the height of punk, rendering him, a critic for Mojo later suggested, "the uncoolest man in the universe". Meat Loaf responded: "Put it this way. I got used to it quite easily when the album started selling in its millions."
Nevertheless, he admitted that he didn't enjoy success. "The music was epic, the success was epic, everything that came with it was epic," he told Mojo. "Maybe that's every teenager's fantasy. But it wasn't mine. I hated it because it was not based in reality. To me, the whole celebrity thing was and is a lot of bullshit. I had no interest in being worshipped and adored. I saw myself as something like a plumber. I just wanted to do a job well. Just because it's rock'n'roll, it shouldn't be on another plane. I have no interest living on that plane. Because living there zaps your brains. It's all based on a fantasy. A dangerous fantasy if you start believing in it."
Despite his cool attitude to fame, Meat Loaf had a nervous breakdown following Bat Out of Hell. A mooted follow-up album, Bad for Good, was blighted by Meat Loaf losing his voice thanks to a combination of touring, drugs and exhaustion. Instead, Steinman sang on and released that album and wrote 1981's Dead Ringer for Meat Loaf, and sang the title track as a duet with Cher. The album was accompanied by a mockumentary in which Meat Loaf played himself and a fan, Marvin.
However, Steinman and Meat Loaf fell out and sued one another – the first of several estrangements – leaving the latter to resort to songwriters-for-hire for his next album, Midnight at the Lost and Found. He was unable to convince his record label to pay for two Steinman songs that Meat Loaf said were written for him – Total Eclipse of the Heart, later a No 1 hit for Bonnie Tyler, and Making Love Out of Nothing at All, a No 2 hit for Air Supply.
Although a big live draw, Meat Loaf's records foundered commercially in the 1980s. That decade, he made forays into comedy, trying standup and performing in the UK with Hugh Laurie. He also struggled personally: he once had to be forcibly removed from a hotel room to which he retreated for weeks. He told Mojo, "I went off the rails because I was fighting the record company and I was fighting the mob because I was being ripped off. It was then I discovered what a tough motherfucker I was. In order to find out what I was I had to lose my mind. That's sometimes how it goes."
But Meat Loaf's crowning moment was yet to come. Reunited with Steinman, and defying widespread scepticism about his comeback, he released Bat Out of Hell II: Back Into Hell, a global smash that won him Grammy and Brit awards.
Critics often asked him about the caveat of I'd Do Anything for Love (But I Won't Do That). Meat Loaf remained cryptic about the answer, responding that it was all in the song if anyone cared to listen properly.
His subsequent 90s albums went platinum in the UK and his profile remained high into the new millennium, but on 17 November 2003, during a performance at Wembley Arena, Meat Loaf collapsed of what was later diagnosed as Wolff-Parkinson-White syndrome. After a surgical procedure, he continued to tour and recorded Bat Out of Hell III with Steinman, released in 2006. A single, It's All Coming Back to Me Now, charted in the UK at No 6, his highest chart position in almost 11 years.
Speaking to Mojo, he characterised the public perception of his act: "That I'm overblown, pompous, melodramatic, self-indulgent. I've heard it a million times. And the first person to describe me like that was me. It's supposed to be overblown. It's a fucking comedy. The entire history of rock'n'roll is a comedy … Rock'n'roll was never meant to answer the questions of the universe. It's a laugh. I'm a laugh. So laugh at me if you like. I have no problem with that."
Share this page on Facebook.